The Official Site of Pregnancy and Infant Loss Remembrance Day
Thank you for your interest in our website. Remembering Our Babies was created to provide support, education and awareness for those who are suffering or may know someone who has suffered a miscarriage, an ectopic pregnancy, a still birth, or the loss of an infant. We hope that we can help you by giving you and all of the other parents, grandparents, siblings, relatives, and friends a special day of remembrance. This special day of Pregnancy and Infant Loss Remembrance is October 15th of every year.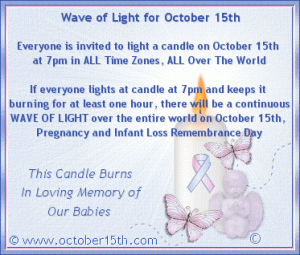 Too many families grieve in silence, sometimes never coming to terms with their loss. Our goal is to help others relate to our loss, know what to say, do or not say, not do and to help families live with their loss, not "get over" their loss.
In October 1988, President Ronald Reagan Proclaimed October as National Pregnancy and Infant Loss Awareness Month. "When a child loses his parent, they are called an orphan. When a spouse loses her or his partner, they are called a widow or widower. When parents lose their child, there isn't a word to describe them. This month recognizes the loss so many parents experience across the United States and around the world. It is also meant to inform and provide resources for parents who have lost children due to miscarriage, ectopic pregnancy, molar pregnancy, stillbirths, birth defects, SIDS, and other causes."
Robyn Bear, founder of www.october15th.com envisioned a day when all grieving parents could come together and be surrounded by love and support from their friends and families, a day where the community could better understand their pain and learn how to reach out to those grieving. This would be a day to reflect on the loss yet embrace the love. While our babies' lives where so brief, they were also very meaningful. Yet, there was not a time to talk about them. Our society seemed to forget or perhaps, simply didn't know how to reach out. Since October had been proclaimed "Awareness Month", she chose a day, in the middle of the month to become, "Pregnancy and Infant Loss Remembrance Day". We are asking everyone in all times zones, worldwide, to join us in a candle lighting ceremony at 7pm on October 15th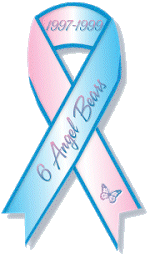 Did You Know?
• According to a 2004 National Vital Statistics Report issued by the Centers for Disease Control and Prevention (CDC), in 2000, 15.6% or 1,003,000 of the 6,401,000 pregnancies in the United States ended in either a miscarriage or stillbirth; the CDC also indicates that in 2003 the number of live births in the United States was 4,093,000; of those births, 27,500 ended in the death of an infant under the age of one.